Check us out on FOX News-click here!
We offer hot air balloon rides in North Carolina at sunrise and sunset. The meeting time for these hot air balloon flights will vary as the sunrise and sunset times change with the seasons.


The balloon flight itself will last approximately one hour, and the whole event about two hours. After take-off, the first few minutes of the flight are spent at tree top level, allowing you to get a feel for the flight. From there we may ascend up to 2,000 or 3,000 feet above the ground.

At this altitude it is possible to see both Charlotte and Winston-Salem skylines, Lake Norman, as well as the Brushy Mountains! At times we may see some of the abundant wildlife that calls Iredell County home.
Our two main launch sites are at Cool Spring, NC just 6 miles east of Statesville off Hwy 64 and at Lake Norman, NC off I-77 that is 6 miles south of Statesville. Other locations are available.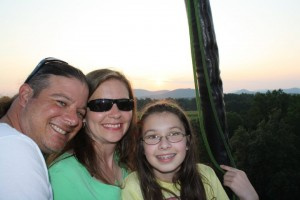 If you desire a family affair or want to to have a high-flying party, give us a call and we'll add a few more balloons to accommodate you wishes.
Call 704-880-0238 for reservations.

Weather:
Please remember that all balloon flights are completely weather dependent. If your flight is canceled, understand that it is for your safety. If the winds are forecast to be above 10 mph or if there is any chance of thunderstorms or rain showers in the area (within 100 miles) you will not be flying. Flights may be canceled due to heat. On hot days, the combination of the outside temperature and the heat from the burners may make the flight miserable for everyone involved. As a general rule, we will cancel if the heat index is over 90 degrees. All flights and cancellations are completely at your pilot's discretion and will not be questioned.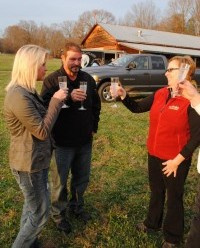 Health requirements:
You must be able to remain standing for at least one hour. There are no seats or chairs in the balloon (call with special needs). You must also be able to hold yourself in the basket when landing. Upon landing you may be coming to a stop from 10 mph. This is the equivalent impact of jumping off of your kitchen table. Please remember that ballooning is a fair weather sport and every precaution is taken to ensure your safety. Minor injuries can occur in the event of a rough landing or while climbing in and out of the basket and the chase vehicle. You will be required to sign a waiver at the launch field. If you have further questions or have a health concern please discuss this with us when you make your reservation.
Clothing:
On the day of your flight, dress as you would if you were going to be outside for three hours. Your pilot will tell you if you need to bring a jacket. Cotton clothing is best. Wear tennis shoes or flats, as you will be standing for a long time. Tank tops, sandals and high heels are not recommended.

Cameras:
There are excellent photographic opportunities throughout the flight You are welcome to bring your camera equipment on board.

Children:
Children should be at least 10 years old.
About Us:
Marsha Treacy is the owner of AeroSports, Inc and resides in Statesville, NC. Her love of ballooning takes her to events across the country. Marsha has been a commercial pilot since 1984 and is proud of her perfect safety record.